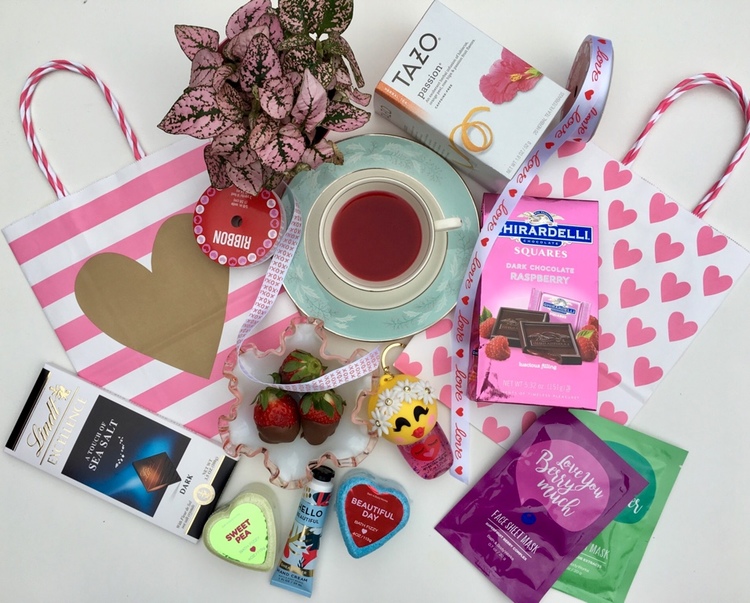 Guess what? You don't have to spend a fortune to spread a little love this week.
We grabbed a couple of items this weekend while running errands that would be great for friends and family. Valentine's Day is not just for romance. "Little bits of Love", yet no big budgets are required. In fact all of these ideas are around $5.00 and can be found while you are already shopping at Ingles, Dollar Tree, and Bath and Body in Cornelia, Georgia. Ingles card helped keep the prices low, and Bath and Body had a few specials.
Adorable Pink Polka-Dot Plant can be found in the floral section at Ingles for $2.98. The real name is Hypoestes Sanguinolenta but Pink Polka-Dot is sure easier to say!
Valentine Gift Bags with cute twisted pink and white handles at Dollar Tree are two for $1.00 and ready for you to stuff with just about anything.
Tazo Passion Tea at Ingles for $3.98. We couldn't help but brew a cup to show off the pretty pink color. Add a vintage tea cup if you have one to share!
Just say, "Hello Beautiful" with a tiny purse size hand cream, $4.00 at Bath and Body.
Who wouldn't want a bag of Ghiradelli Dark Chocolate Raspberry Squares from Ingles for $3.00.
Love You Berry Much face masks, and many more mask choices at Bath and Body, $2.45.
Emoji hand sanitizer that clips to a purse handle for easy access. We picked "Festival Girl" and added a Red Heart face sanitizer. Total cost for both $5.75.
Lindt Dark Chocolate with a Hint of Sea Salt is always a perfect candy bar. Found at Ingles $2.75
Bath bombs that look like Candy Heart Messages "Sweet Pea" and "Beautiful Day" are perfect tiny gifts only $6.95 at Bath and Body where you can pick your favorite fragrance and message.
Fun Valentine's Day ribbons can be found at Dollar Tree for $1.00. Tie a ribbon around a box of homemade goodies, dip a few strawberries in chocolate, or simple print a few pictures for sharing. It's always fun to have printed pictures in this digital photo world.
Happy Valentine's Day from all of us at Jack Bradley Agency. "Insuring the Important Things in Life"