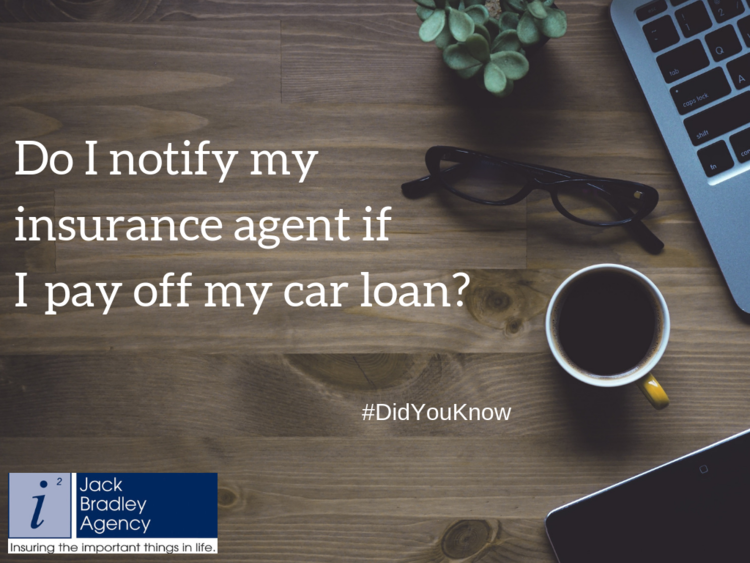 As your local, hometown insurance agency, Jack Bradley Agency, Inc., wants YOU as the consumer to be informed, so we offer some "DID YOU KNOWS," to make sure you follow important steps to take as the insured during the life of your policy.
DID YOU KNOW?
The first in this series is knowing when to notify the insurance company when you've paid off your car loan.
You've Paid Off Your Car Loan
You've happily reached that moment when you've finally (sigh!) paid off your car loan and you're so excited. BUT, did you know you also need to notify your insurance agent or company as soon as you find out? Your bank or credit union doesn't automatically inform your insurer. The ball is in your court to let us know.
Also, the financial institution remains on your policy as an additional interest even when your loan is satisfied, so if you have to file a claim and the insurer pays you your funds, those funds could be delayed on reaching you because the insurance company makes a check payable to you and the bank/credit union and it can't be cashed without the bank signing off as well.
Review Your Policy Once A Year
We recommend that you annually set some time aside, to look at your policy and if there are some loans which are already paid off, let your insurance company or local agent know right away!
Again, follow our simple, "Did You Knows" to keep your policy updated and your frustrations low!
As always, we here at Jack Bradley Agency are always happy to assist you in questions you may have so feel free to contact us anytime! Stay IN THE KNOW!