Did your parents ever say, "go outside and play"? We believe there is no need to stop, even if you are all grown up. Playing outside as adults keeps us happy and healthy. If you are lucky enough to live in the Northeast Georgia Mountains, then you already know that it's easy to find a place to get outside and start enjoying our beautiful world. One of our favorite places to play is in Tallulah Falls Georgia on the Shortline Trail.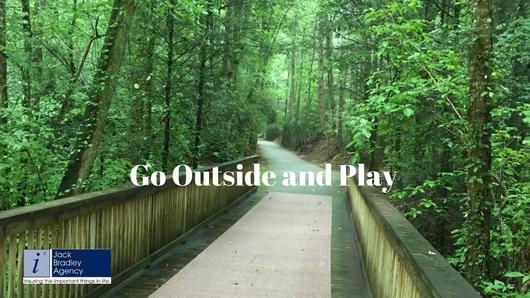 The trail is easy to access and there are several places to park. You can purchase a park pass at several entrances for $5.00 a day. If you love this place as much as we do, then you might consider an annual Georgia State Park Pass. Here is the link http://www.gastateparks.org/ThingsToKnow#ParkPass. You can use the park pass at any of Georgia's State Parks, and good news if you over 62, the annual pass is half price.
Who uses the trail? You will see walkers and runners of all ages and abilities. As well as parents strolling babies and pulling kids in wagons, or even parents walking along with toddlers learning to ride a bike. You might see couples holding hands and enjoying a quiet stroll. Or you might see sweaty runners coming through that are jumping on the trail as part of an even longer run. Benches for stopping and sitting quietly are placed strategically along the trail.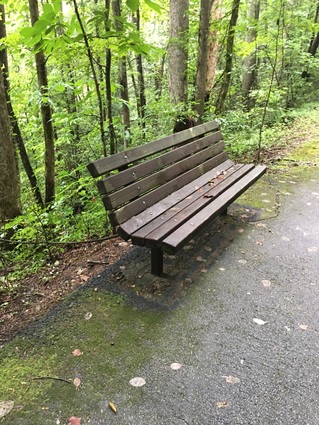 Are you ready for a fall 5K? Then we would suggest the14th Annual Autumn Breeze . It is hosted by the Rabun County High School Visual Arts Department. The loop course includes the Shortline Trail and is the perfect course for new runners and seasoned runners alike. A cool t-shirt always makes it a fun race!http://www.active.com/tallulah-falls-ga/running/di... And as an added bonus, it's for a great cause!
Is this trail for avid runners? YES, runners are always jumping on the trail as part of a longer run. They always appreciate the shade that is offered by the trail, and the smooth well maintained surface is an added bonus. Sweepers come through the trail in the fall and other times during the year to keep it leaf, acorn, and other falling object free. One of our favorite parts on the trail is when you enter a section that has high banks on each side. It's almost like entering a tunnel with rock formations on each side. The temperature seems to drop 10 degrees. Catch it at different times of day and it will be a different experience every time. This image was captured early in the morning when the sun light at the end was magical.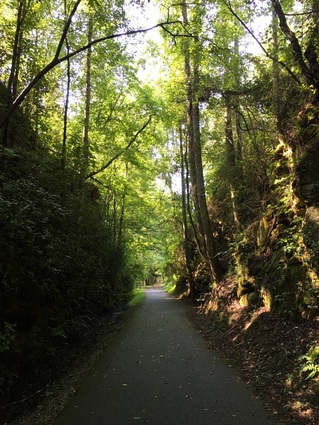 When we say "go outside and play" we really mean it for all ages! The Shortline Trail is only one of the scenic attactions that make Tallulah Falls an amazing place to visit. We will try to share more, especially as we visit in the fall. It's a secret that's already out, the leaves are always spectacular! Visit Northeast Georgia and you won't be disappointed. Habersham, White, and Rabun County would be great places to visit during your stay if you are not a local. We hope you enjoy these images captured in and around the Shortline Trail in Tallulah Falls Georgia.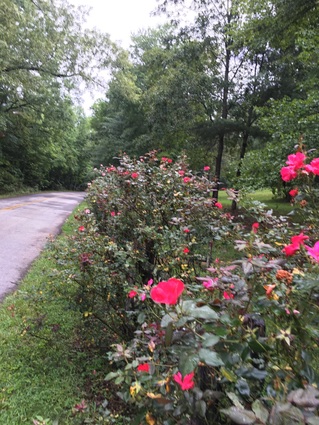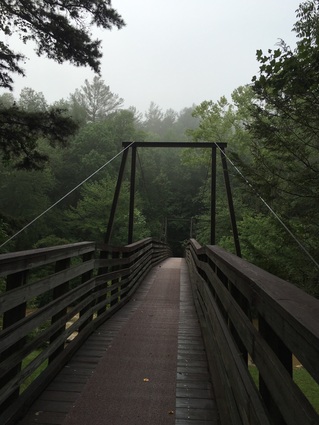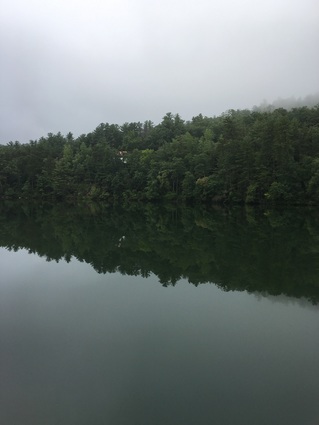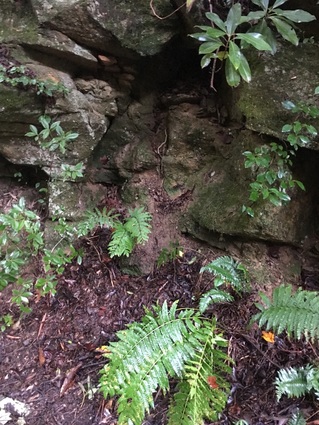 Jack Bradley Agency Insuring the important things in Life and promoting healthy life styles. 706-778-2136 or www.jackbradley.com