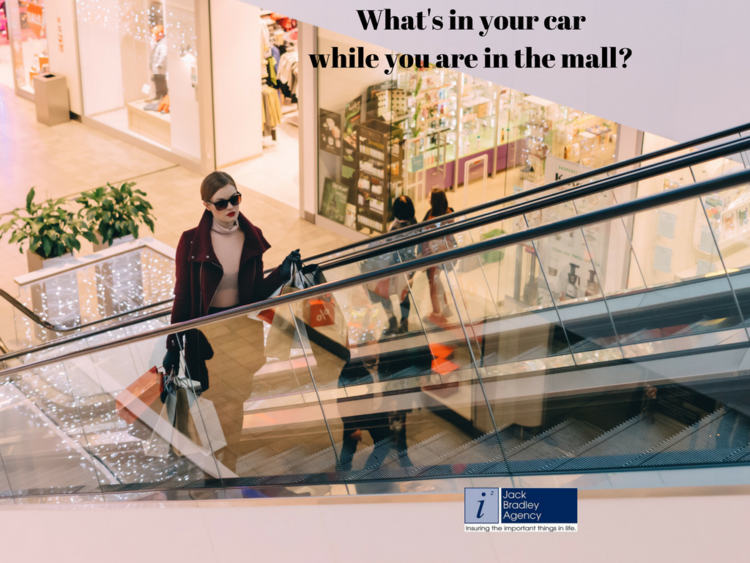 Think about what's in your car while you are in the mall shopping for Christmas? Just a few extra precautions can keep your stuff safe while you are shopping during the holidays.
Unload your car and remove anything that's valuable before you leave home and head out for the mall. Laptops, iPads, and any other electronics should be the first item out of the car and into your home.
Look for the parking spaces that are most visible in higher traffic areas.
If you head to the car to unload those heavy bags, stow them in the truck rather than open areas. And don't forget to keep yourself safe on the way. Wait and exit the mall with other shoppers going to the parking lot in the same direction.
If you must leave things in the car, close bags and cover them with a blanket or jacket.
This one seems silly, but don't leave cash in plain sight. Even if it's that $1.00 you got back as change from Starbucks. No need to attract a thief.
Make sure your car is locked, no matter where you park, even in friends or neighbors driveway.
According to this article Christmas is the # 1 holiday for car thefts, click here for the article. If Christmas is the holiday for car thefts, then it's probably the # 1 holiday for theft of belongings from your car too! Your automobile insurance will cover theft of your vehicle if you have comprehensive coverage. Call the police immediately and contact your agent or company as soon as possible if your vehicle is missing. If you are a customer of Jack Bradley Agency here's link to our agency website assistance page that has claim information for your company, just in case it's after hours. Even if you are not a current customer, you might find this link helpful as well.
Did you know your automobile insurance does not cover theft of the items in your car? Your homeowner or renters policy would cover the items stolen from your car, but keep in mind the deductible would apply.
We hope you have a wonderful Christmas Holiday. Please stay safe and be aware of your surroundings at all times.
Jack Bradley Agency "Insuring the Important Things in Life"