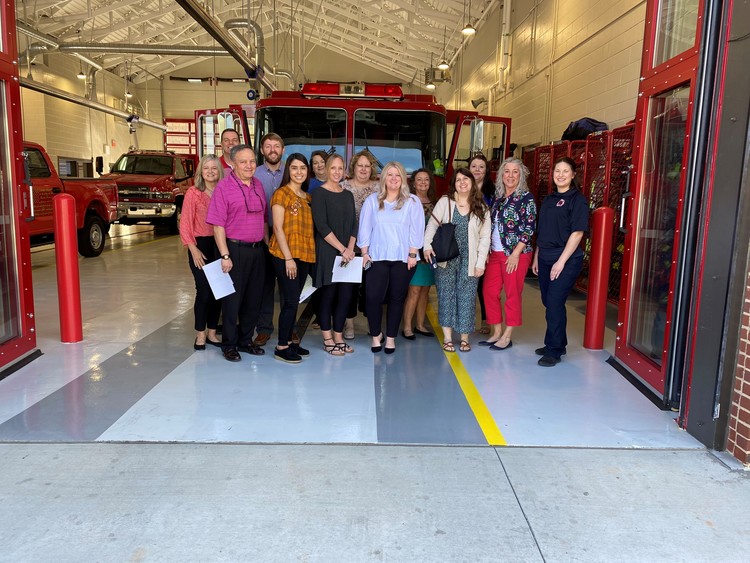 Who says grown ups can't go on field trips? The Jack Bradley Agency Team met at the new Cornelia Fire Station facility for our Tuesday morning staff meeting and we cannot say enough about our visit. We were greeted by Fire Chief Billy Joe Jenkins Jr., who escorted us across the street. Fire house dog Cleo met us at the door, and we could not have felt more welcome. Inside the conference room, we learned from Billy along with Fire Marshal/Fire Investigator, Lt. Josh Hazle and Firefighter/First Responder Angela Martin, who also helps with fire prevention. It is evident this team is passionate about what they do, and they have a willingness to share. City Manager Dee Anderson stopped by to thank us for visiting and we finished up with a tour around the beautiful station. If you have not stopped by, we would encourage you to call for an appointment. It is truly worth your time and your kiddos would certainly be in for a treat.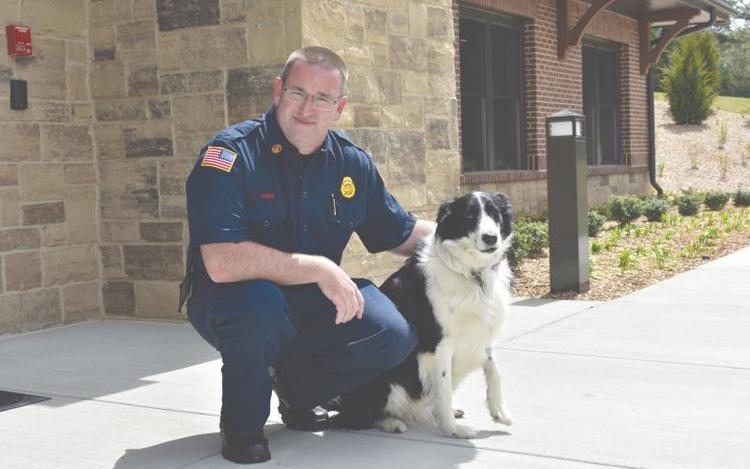 The people behind our fire department
Have BIG hearts for what they do.
Take pride in taking care of our community.
Take pride in their equipment and their beautiful space.
Keep their new station sparkling and shiny.
Have a mission to keep loss to a minimum.
Have a strong desire to be involved in the community.
Educating our community
It is more than firefighting.
They know that kids take it home, so safety and prevention start in the school systems.
It is up to us to share the message.
Follow them on Facebook at https://www.facebook.com/corneliafire to keep updated.
What our team learned
Close before you doze. Visit https://closeyourdoor.org/ to learn more. Share this information with friends and family. We learned that closing all bedroom doors can drastically affect the spread of the fire into sleeping rooms, and lives can possibly be saved.
Retractable ladders are important in multi-story homes. Look for one on Amazon or ask the fire department for recommendations.
Check your smoke alarms. You can buy smoke alarms now that last a lot longer than ones in the past. Look for the 10-year smoke alarm by Kidde. The lithium-ion battery found in this model saves money as replacing a battery every 10 years is more expensive. Since a lot of fires happen during sleeping hours when your smelling senses are turned off, smoke alarms are essential.
If there is any gas appliance in the house, also add the carbon monoxide alarm. Carbon monoxide is scary because it is silent and odorless, and you do not know when you are inhaling it. It displaces oxygen in the blood.
Fires these days spread faster because most homes and furniture are now made of more synthetic materials.
You have about 17 minutes to escape from a home older than 40 years and only three minutes in a home built today, once the home is in flames.
Have a plan. You do not have a lot of time. Be ready to act and make sure your children are educated. As the lady on Good Morning America said on the video we watched, do fire drills at home like your kids do at school.
Never assume no one is in the house.
If in a fire, always stay low and move low, as this air is clearer and cooler since heat rises.
Our town
Cornelia currently has a fire protection rating of 3 from ISO (Insurance Services Office) and that's good news for your insurance rates.
Thanks for the hard work from our fire department in keeping this ISO rating low. ISO uses many factors to determine the fire protection class for your city. The fire department keeps accurate records and strives to meet the expectations that are required to keep the protection as low as possible.
If you are within five miles of the city limits, but not inside the city limits, you can pay a subscription fee and take advantage of the Protection Class 3. Check with your insurance agent and ask how much you could save, compared to what you are paying now.
We cannot say thank you enough for all you do to keep our town safe! The work you do helps keep our insurance rates low as well.