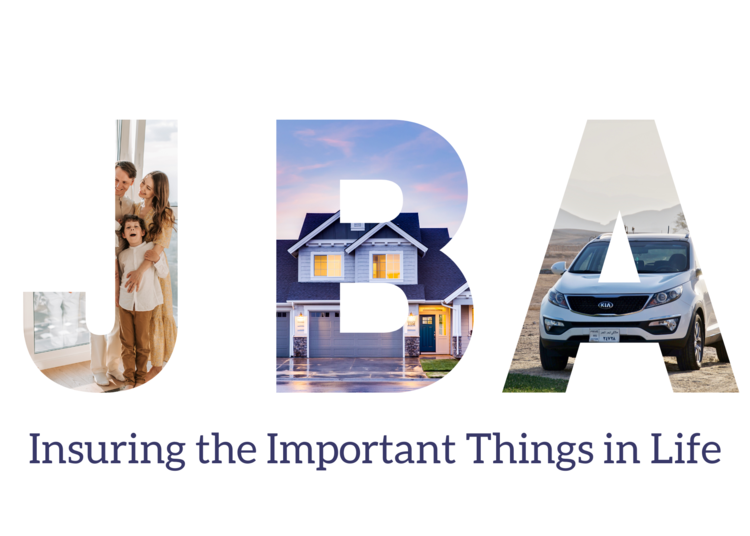 Available Home Coverages:
Homeowners insurance policy exists to protect your home against accidental losses. Standard coverage falls under four areas – see below.
Structural coverage pays to rebuild or repair your home due to damage or destruction. It covers damage or destruction due to fire, water and acts of nature, like tornadoes, hurricanes, lightning and hail.
Personal property coverage protects your personal belongings in case your clothes, furniture and other personal items are stolen or destroyed. Expensive items like jewelry, art and collectibles are covered as well, but may have dollar limits.
Liability protection protects you against lawsuits from injury or damage that you or your family cause to other people. If, for example, your child accidentally breaks a neighbor's antique dishes, your homeowners policy will cover it.
Additional living expenses covers living expenses incurred while you're living away from home because of damage from a disaster.

Available Auto Coverages:
Liability coverage for bodily injury and property damage you cause when driving.
Collision coverage to cover the cost of fixing your car after an accident, hitting an object or a pothole, or flipping over.
Comprehensive coverage for damage caused by something other than an accident, such as hail, a fire, vandalism, theft, a falling object or a cracked windshield.
Medical payments/personal injury protection to pay for medical bills and lost wages for you and any passengers injured in an accident.
Uninsured/underinsured motorists' coverage to protect you from other drivers who don't have coverage or from a hit-and-run accident.
Other beneficial options:
Telematics safe driving program that can reduce claims and lower your rates.
Discounts for good drivers, defensive driving classes, anti-theft devices, and multiple vehicles insured through us.
Savings when you bundle both your auto and homeowners policy with us.

Available Umbrella Coverages:
Large Limits of Liability Umbrella protection is available with coverage limits up to $5,000,000 (higher limits may be available, but are subject to underwriting approval).
Legal Defense Court cases can quickly cost large amounts of money. An umbrella policy can protect you from personally incurring these expenses.
Personal Injury Protection Provides protection against claims or suits brought against you, such as: libel, slander, false arrest, mental anguish, defamation of character, invasion of privacy, false imprisonment and wrongful eviction.
Worldwide Coverage Provides coverage for losses that occur outside of the country. For example, if you rent a vehicle in another country and get into an accident, you may not have proper coverage unless you have a personal umbrella policy.
Care, Custody and Control Provides protection for property you are renting or borrowing.
OPTIONAL COVERAGES


The following coverages can be added by optional endorsement:
Optional Automobile Coverages:
24/7 roadside assistance including jump-starts, tire changes, fuel delivery and towing.
Replacement for a total loss
Gap insurance to cover the difference between what you owe on your car loan and the value of the car if it's totaled.
Rideshare insurance if you use your car to pick up passengers for a ridesharing company.
Commercial auto insurance if you drive your vehicle for business
No-deductible glass coverage for damage to your windows
Specialty coverage for classic cars that insures their distinctive value and use, including shows.
Optional Homeowners Coverages:
Valuable Articles Coverage: Extra coverage for high-value items such as jewelry, art, collectibles, or camera equipment.
Equipment Breakdown Coverage: Covers electrical and mechanical failures of equipment at your home, from air conditioners and heating units to computers and major appliances.
Identity Theft Expense Coverage: Provides for expenses incurred when trying to restore your financial identity.
Home Cyber Protection: Home Cyber Protection covers the cost for you to hire professional help to recover stolen or corrupted data, restore your device's functionality and legal counsel to review and develop a response for the personal data compromise. It also includes coverage for financial loss in the event of fraud (including identity theft), extortion payments and even resources to others affected by the attack.
Guaranteed Home Replacement Cost: This provides full replacement of your home in the event that your coverage limit is too low.
Water Back Up of Sewers or Drains: Backed up sewers or drains can wreak havoc on a home, causing damage to floors, walls, furniture and electrical systems. Coverage for water backup is available with a wide array of limits to suit your needs.
Ordinance or Law Coverage: Sometimes, local ordinances or laws can regulate construction, repair or demolition of your property. This coverage will pay to get you up to code.