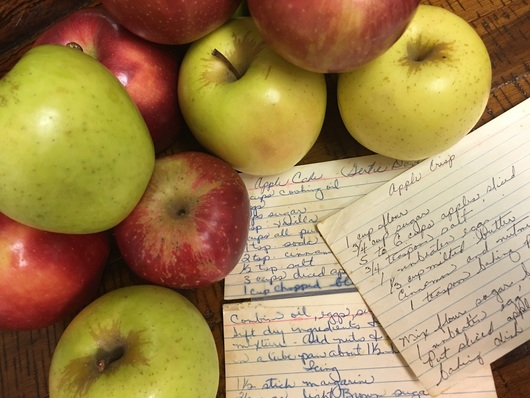 Nothing like the smell of something cooking with apples to make you feel at home. And that's why we are sharing two of Jan Barnette's tested and proven delicious apple recipes. It's the same thing that we want you to feel when you walk into Jack Bradley Agency…right at home!
Jan is our agency owner John Barnette's wife, and Kelley Herrin's mom.When you look at a recipe card and it looks worn and tattered you know it's a good recipe! For you locals, if you look close at the Apple Cake recipe you will see the recipe came from Gertie Davis. What a sweet friend she was for many. She is missed in her church and community. (Recipes shown below)
So go ahead a heat up your oven and pick up some apples. It's the perfect weekend for your kitchen to smell like apples, after all it's the weekend for the Big Red Apple Festival. Cornelia Georgia, Home of the Big Red Apple. If you are in town, make sure you take time to enjoy the festival. http://www.corneliageorgia.org/250/Big-Red-Apple-Festival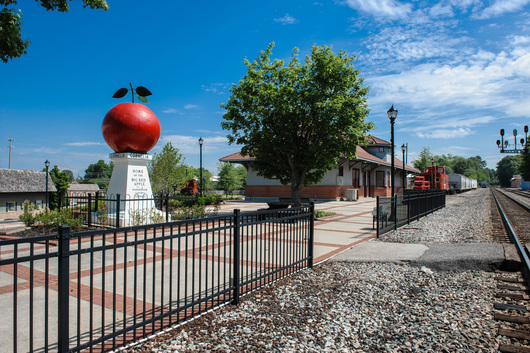 Recipe # 1 Apple Cake (Handed Down by Gertie Davis)
1 1/2 Cup Cooking Oil
3 eggs
2 Cups Sugar
2 teaspoons vanilla
3 cups all purpose flour
1 teaspoon baking soda
2 teaspoons cinnamon
1/2 teaspoon salt
3 cups diced apples
1 cup chopped black walnuts
Combine oil, eggs, sugar, and vanilla. Sift dry ingredients and add to the first mixture. Add nuts and apples. Bake in a tube pan about 1 1/2 hours at 325 degrees.
Icing
1 1/2 stick margarine
2/3 cup light brown sugar
1 teaspoon vanilla
Heat margarine and brown sugar over medium heat. Boil one minute. Cool and add vanilla and spread on cake.
Recipe # 2 Apple Crisp
1 cup Flour
3/4 cup sugar
5 to 6 cups apples; sliced
3/4 teaspoon salt
1 unbeaten egg
1/3 cup melted butter
1/4 Teaspoon Cinnamon
1 teaspoon baking powder
Mix flour, sugar, baking powder, salt, cinnamon, and the unbeaten egg in a bowl until crumbly. Put sliced apples in a shallow greased baking dish 6 by 10 inches. Sprinkle with cinnamon. Cover with mixture and pour 1/3 cup butter over top and bake at 350 degrees for 30 to 40 minutes. Serve warm.
Hope you enjoy the recipes. If you don't have an insurance agent that makes you feel right at home, then come on over an visit us.
Phone 706-778-2136
E-mail info [at] jackbradley [dot] com
Visit us on the web http://www.jackbradley.com/
Locations 138 Market Corners Drive Cornelia Georgia
327 Helen Highway Cleveland Georgia