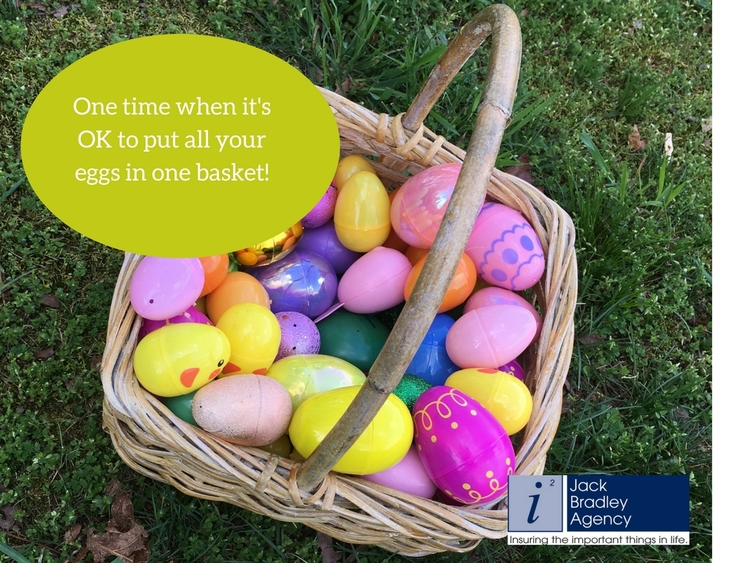 How many times have you heard it, "Don't put your eggs in one basket"?
There is an exception to everything and putting your eggs in one basket when it comes to insurance is one of those times.
We all love discounts and savings! Don't you?
Putting all of your insurance with the same company means those discounts and savings keep adding up. Over the years you may have found savings by shopping around for insurance on something new that you purchased or realized that you needed to insure. Then when you found the lowest price you said "Yes I will take it". We see it all the time when people purchase a new home and their mortgage broker finds them a great deal on insurance for their new home. Yet the new homeowner has their auto insurance through another agent or maybe even an on line or 1-800 company. What about that life insurance that you bought years ago and it's with a different company too. Maybe you bought a boat at a marina or boat show and they had insurance all ready for you to purchase on your new boat or jet ski. That's how it happens over the years and before you know it your insurance is spread out everywhere.
That's where we want to help. We do the usual and the not so usual when it come to insurance.
Let us show you how you can save big by putting all of your eggs in one basket and by getting all of your insurance with the same company and with the same agent.
Many insurance products are specialized and some agents just don't do things like Pet Insurance, Life Insurance, Medicare Supplement Insurance, Medicare Prescription Drug Plans, In Home Business Insurance, Wedding Insurance, Short Term Rental Property Insurance, Vacant Home Insurance, and the list goes on and on. Yes we do the usual Home, Auto, Business, and Life insurance that most agents offer, but we also do the not so usual.
Just a few more advantages to getting all your eggs in one basket through Jack Bradley Agency include:
One Agency, One Place, One group of friendly responsive people that Care.
Digital service opportunities through a responsive website.
Companies that offer mobile apps that make your life easy you when your life is busy.
Call us at 706-778-2136. We want to help you with every discount and savings that is available. We want to help make your life easier not more complicated. Want to learn more about Products We Offer?