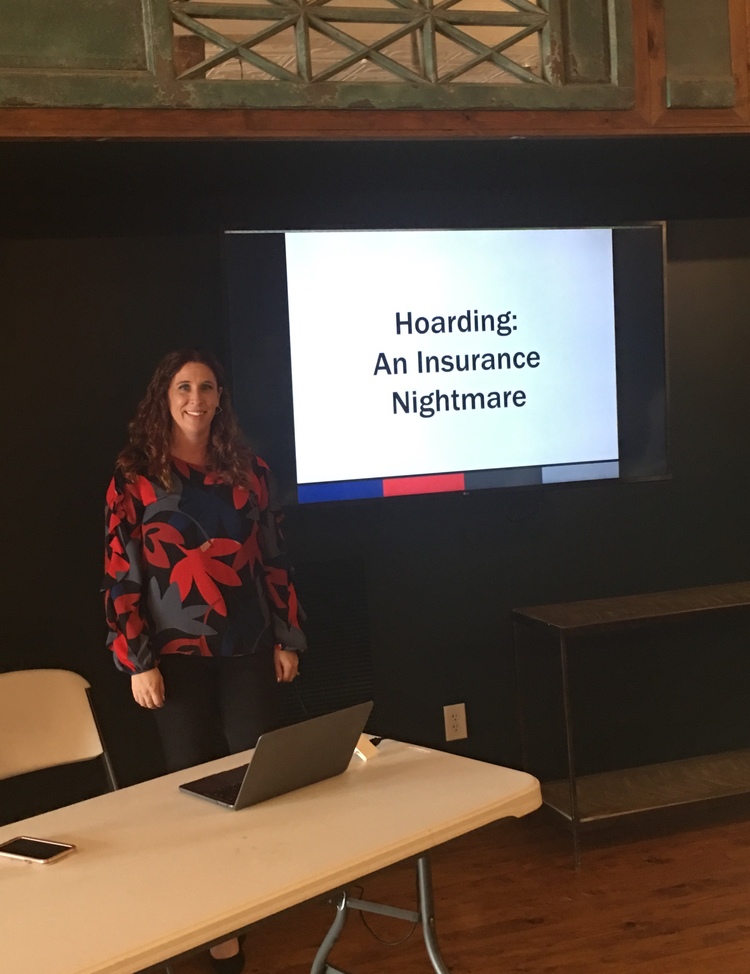 Most of us can relate to having too much stuff
Ask yourself this question: are you collecting things because it's a hobby or a passion, or do you have trouble parting with items just because you feel the need to hold onto everything?
Jack Bradley agents recently got very educated on the topic of hoarding and how it can impact the insurance claim process. Did you know there are even five different recognized levels of hoarding? No matter what level you find yourself, your home and health could be at risk.
We would like to say thank you to Sarah Addison of PuroClean for hosting a Continuing Education class for our team of agents. We gained some valuable insight from the course. We also want to thank Sarah and her team for all they do for clients in the event of a claim. PuroClean is a fire and water damage restoration company. LEARN MORE about PuroClean by visiting their website.
It's complicated when there is too much stuff
Time
We learned in the course that the claim process can be a lengthy one if a lot of stuff is standing in the way of progress. It's the time factor! The obvious time factor is the time it takes to move a lot of stuff around and may even require a new location to prevent more damage from occurring. Each one of the items will need to be looked at individually to determine whether it is salvageable or not. And each item will need to be documented so your insurance company has the information it needs to settle your claim.
Hidden Damage
Too much stuff piled in your home could mean NOT detecting a leak until serious damage has already occurred. Maybe an appliance is leaking but your home is filled to the brim with stuff and you don't see the water slowly leaking. Your homeowner insurance is meant to cover sudden and accidental water damage not slow leaks that are really maintenance issues. Take care of the clutter to make certain you don't miss slow leaks and avoid a claim that might not be covered.
Health Risks
Homeowners with lots of clutter may also not even know they have mold spores growing in their home. Our agents learned that mold spores can grow in 72 hours! Be aware if too many things are obstructing airflow, especially if there is humidity issues or slow leaks, as you may be in jeopardy. The mold can impact the health of you and your loved ones, which is just another reason to get rid of unnecessary things.
Structural Risk
When hoarding is excessive, it may include stacking too many items in your attic or on one floor of your home, eventually damaging the actual structure of your home.
Fire Hazards
Excessive amounts of paper or boxes especially in or on areas in the kitchen could be the culprit when it comes to kitchen fires. Keeping the stovetop as well as ovens and appliances free of clutter will reduce the chance of a fire.
What's your motivation for reducing clutter?
The class even motivated us as insurance agents to ask ourselves how we can improve our spaces. We want to educate you as our clients so we can help you prevent issues down the road with a claim, and not to mention help you have a healthier, clean home at the same time.
Let Jack Bradley Agency help you with your homeowner insurance needs. Give us a call at 706-778-2136 or Find Out More by visiting our website.