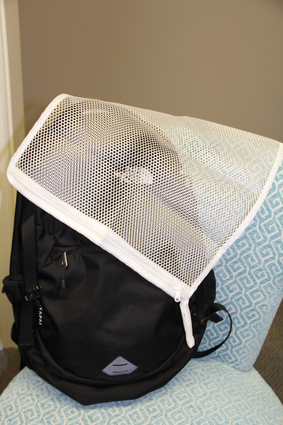 Traveling this summer and only have space for a small bag or backpack, then organization is your key!
Think about how neat and orderly your bag looks when you leave home. And then think about the times that you could NOT stuff your belongings back in your bag for the trip home. If you are planning to make five stops on your trip, then the frustration of repacking your bag is multiplied times five. Not to mention the frustration of rummaging through your stuff over and over and possibly even loosing things that are really not lost. Visualize a large stacks of paper on your desk and continually looking through the same stack to find that one thing over and over.
Recently while planning a trip with multiple stops and limited car space, packing became an important consideration. To be more precise, one small bag for ten days certainly required some careful planning. We found these handy mesh bags at Walmart in the laundry organization area. For less than $2.00 each, these bags were just what was needed. Typically these bags with a zipper are for throwing in the washing machine with delicate laundry. Shirts were rolled up in one bag, and shorts and skirts in the other. No need to pull everything out of the bag to find a shirt! These simple mesh bags will certainly be a part of our packing strategy for any trip whether the bag is large or small. Hopefully you will find this helpful for your next trip.
Just one more bit of travel advice since we are on the topic. If you are leaving the United States your health insurance may not travel with you. Most health insurance policies do not cover foreign travel. It's important to check with an insurance agent who offers International Health Insurance or it could be called International Travel Insurance. The cost of the policy is not very expensive compared to the expense you may incur if you are injured or become sick while outside the US. To get a quote, plan to share your date of birth, the country that you will be traveling to, and the dates of your travel. It is important that the policy provide you with a significant limit for evacuation coverage. This would cover your expenses associated with transportation back to the US to get medical attention rather than in the country where you became injured or sick.
Curious about the cost of the international health insurance for your next trip? Contact our office for a quote. We think you will be pleasantly surprised with the cost and certainly with the peace of mind if you decide to purchase. Jack Bradley Agency is a source for International Health Insurance. Call us at 706-778-2136. Or connect with us at http://www.jackbradley.com/contact
Happy and Safe travels this summer from all of us at Jack Bradley Agency, locations in Cornelia Georgia and Cleveland Georgia.