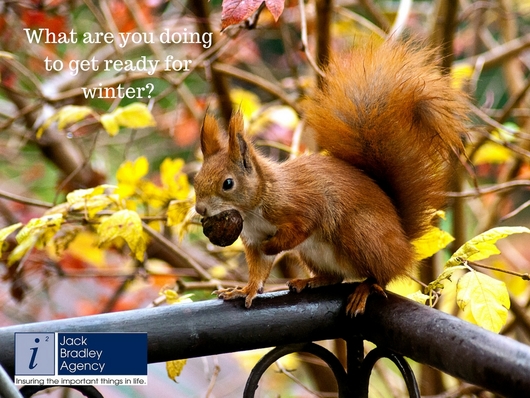 We think it's a great time to Prepare Your Homeowner Insurance Policy for Winter. In our experience, it's common for homeowner insurance claims to occur during the winter, so we encourage you to be prepared. Here's a few tips for winterizing your policy.
Find your policy and look over your coverage.
Does your policy include identity theft? Holiday shopping whether on-line or in stores may be a peak time for having your identity stolen.
Did you know that your homeowner policy has limited coverage for theft of jewelry?Make certain you talk with your agent about your jewelry limits. Holiday gift exchanges may mean new jewelry items that need to be scheduled on your homeowner policy. If you have not taken the time to talk with your agent about current jewelry, then it would be a great time to do so. Many thefts occur during the winter season.
Don't neglect a review of your liability limit. This coverage protects you in the event that someone is injured at your home. Holiday parties may mean more people visiting than other times of the year. Are you serving alcohol? Don't let your guests drink and drive.
What about toys? ATV's, Golf Carts, and Small Utility Vehicles may leave your premises during the winter. Are they covered when they leave your premises? Anyone taking their ATV to deer hunting property? Anyone driving the golf cart to a neighborhood party? Anyone taking their utility vehicle off premises to cut firewood? If you answer "yes" to these type questions then we would recommend talking to your agent.
Look closely at the amount of coverage on your home. Your agent can help you complete a new replacement cost calculation to make certain you have enough coverage if disaster strikes.
Have you added additions or spent money remodeling that increased the value of your home? Take time to make your agent aware. They can't protect what they don't know.
What about unattached structures? Have you added a new storage building or fence? Make sure you notify your agent so it will be properly insured. Trees falling due to rain, wind, or snow storms may damage your other structure as well as your home.
Does your policy include coverage for backup of sewer and drain coverage? There is no better way to ruin holiday fun than a claim that is not covered.
Some companies have even started using a percentage based deductible. Look carefully at your policy. If you see a deductible like $500, $1000, or $2500, then this means if you have a loss the deductible will be applied as a flat amount. If your deductible is shown as a percentage amount such as 1%, then this means your deductible will be applied as a percentage of the coverage amount on your home. For example a 1% deductible on a home insured for $250,000 would be $2500 or a 5% deductible would be $12,500. Know your deductible.
You may want to consider a higher deductible to save money. Just make certain that you set aside savings to cover the deductible to avoid stressing your budget if a claim occurs.
The most important tip that we can give "a reminder to talk to your agent". Make sure your agent knows you and knows your home.
Don't forget to consider home projects that are needed to get your house ready for winter. Here's a few of our suggestions.
Annual Inspection of HVAC systems
Annual Chimney Cleaning and Inspection
Clean Out Gutters
Make sure all water pipes are protected
Trim trees that may be overhanging home
Check windows and doors and seal any cracks
Close Swimming Pool for the Season
Repaint areas where paint is peeling
Winterize outdoor toys such as boats, and recreational vehicles
Keep both of these "To Do" lists in mind when you are getting your policy and your home winter ready. If you would like a printable pdf version of these two lists just send us a quick e-mail to info [at] jackbradley [dot] com and ask for the Winter Ready Lists!
Finally ask yourself, Do I have an agent that is interested in getting to know me? The agent that is interested is also an agent that cares and wants to personalize your homeowner policy just for you. Jack Bradley Agency in Cornelia and Cleveland Georgia would love to be that great agent for you.
More details? Click this link http://www.jackbradley.com/homeowner-insurance
Get a Quote? Click this link http://www.jackbradley.com/home-insurance-quote
Talk to us 706-778-2136