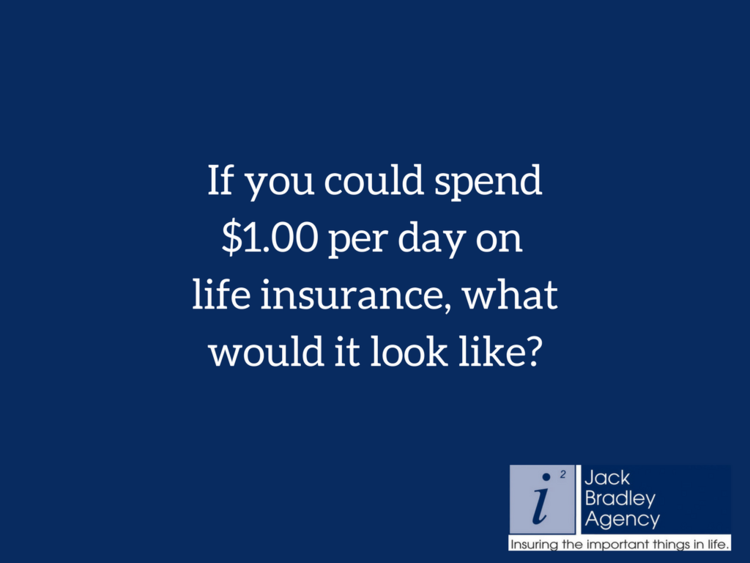 The title of this article makes us utilize a wise strategy for obtaining goals that may seem too big for you to achieve. Many professionals in the education or coaching field tell us that one of the best ways to accomplish a large goal is to break down the steps to reach the goal into smaller parts. This method can give folks a sense of accomplishment along the way with little victories that can lead to the ultimate bigger prize. Such also is the area of obtaining a sufficient amount of life insurance on ourselves and our loved ones. The thought of going through the process to get covered plus the ongoing cost for the protection can be overwhelming if you don't place the process in a way of thinking that makes this task possible.
To address the financial commitment of adequate life insurance, simply break down the monthly premium into a daily amount. If you will do this calculation, you might find that the cost to have the right amount of life insurance is not much more that what might be currently in the change holder in your automobile--as calculated on a per day cost. $1 to $2 dollars a day may be all that is required to buy you the peace of mind of knowing that you will not be a burden on your family. Once you have this revelation of the affordability on a daily basis, you might find yourself looking at your budget to recover a dollar or two each day to finally afford a policy that you may have thought was out of reach.
Let us help you discover how you can afford life insurance. Tell us your budget and we will help you make it work.
Give us a call at 706-778-2136, or CLICK HERE to reach out to us through our website.