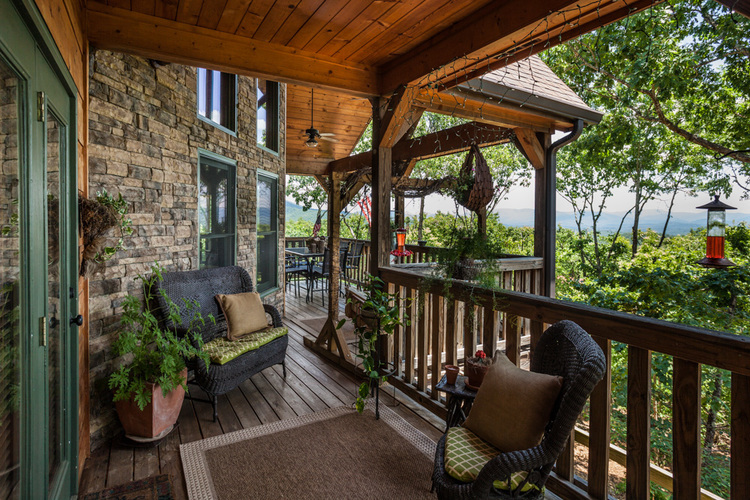 "Our Mountain Fantasy" - Ellijay, GA
(Photo Courtesy of Mountain Oasis Cabin Rentals)
I have two really great friends. One lives in an urban area in the middle of a "rehab revival" and the other bought a second home in the mountains where he and his wife can spend a few weeks a year with family and friends – they also lend it to clients for a "Thank You for Your Business" stay a few times a year. Both found places that "checked all the boxes", but they wanted to get a little more out of their investment than just their own use and enjoyment.
The first friend, "Charlotte" we'll call her, bought a home that had been purchased by a developer a few years ago in the Atlanta-area. The developer brought back the charm of the old house and gave it some modern flair as well. Craftsman-style, on a quiet Decatur street, convenient to the market, in a great school district, and where you can walk to the park on an afternoon stroll. She was fairly close to the airport as well, for when she traveled for business. The carriage house out back had a very cozy little apartment, even though it was small.
It was her dream home.
"Trent", my other friend, ended up with a beautiful 2.2 acres on the Cartecay River in Ellijay. Trout fishing, back porch rocking, kayaking, and a hot tub were all much more attractive than his man-cave in Florida. Not to mention it was a great, centralized, meeting place for the kids in Nashville and Winston-Salem on holidays and long weekends. There were hiking trails close by and vineyards for weekend brunches as well.
It was his dream home.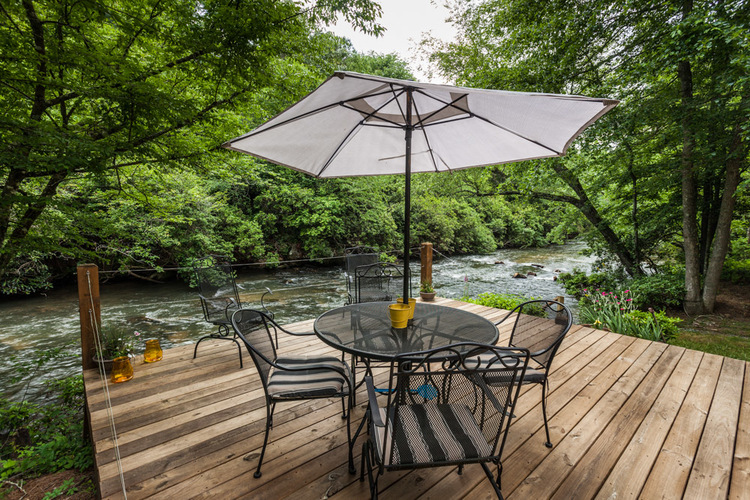 "River's Edge" - Ellijay, GA
(Photo Courtesy of Mountain Oasis Cabin Rentals)
With a carriage house for Charlotte and about 40 open weeks out of the year for Trent, there was some opportunity for both to explore the idea of "short-term" or "vacation rental" on each property. It gave each the flexibility to dictate when the property was available and also wasn't as intrusive or impractical as a long-term tenant would be for both of them.
"But what do know about short-term rentals? What do I need to make it work? Who can help me find what I need?" The first impulse for each of my friends was to check on sites like Airbnb, FlipKey, HomeAway, and VRBO and read forums and reviews from people with experience doing the same. Then Trent went to a local property manager in the area and spoke with them about what they could offer.
A few weeks and a great deal of online and in-person research later, each made a decision to move forward with renting their places for guests, nights or weeks at a time.
Charlotte listed her carriage house on Airbnb - as she found - a great deal of people in her area were renting homes and even rooms in their own house to out-of-town travelers that wanted a local feel and not the cold, lifeless drum of a hotel room. $110 per night on average and 14.6 average rental days per month sounded like she'd be paying for about half of her mortgage in any given month.
NO WORRIES!
Trent decided to sign a contract with a local property manager that oversees a portfolio of about 95 similar homes in Ellijay and neighboring Blue Ridge. They projected an annual income of about $31,000 after all the fees that were paid out of their rental income. The cabin looks like it'll pay for itself and maybe, just maybe, they'll make enough to pay for kayak storage and some bicycles to rent out as well.
NO WORRIES!
Unfortunately, the last thing either one of my friends thought about was insurance. When they called to tell their current agent they needed some coverage for a rental they'd purchased, the agent started asking a number of questions. Subsequently, the agent determined that my friends owned a "short-term rental" cabin. At that point, the agent said that he couldn't provide coverage for that kind of home because of the "business exposure" it presents. Both were confused and neither knew really what to do, but they had one tool ready at their disposal… trusty old GOOGLE.
NO WORRIES!
Both ended up searching for the exact same thing…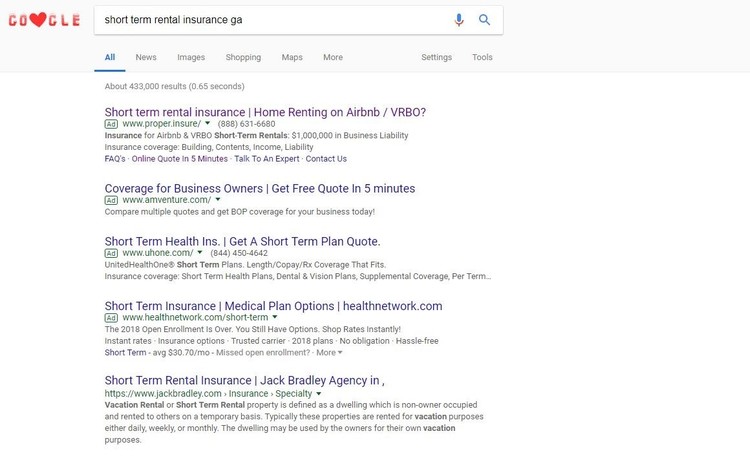 Not wanting to click on a sponsored link, our agency was their first stop.
We became fast friends.
Our niche is short-term rental in Georgia, North Carolina, South Carolina, and Tennessee - of all flavors. We've been insuring them for the better part of 15 years and we understand all of the intricacies of the sharing economy and its impact on homeowners.
We can help with your cabin, in Trent's case, your carriage house and primary home, in Charlotte's case, or any other instance in between. We have a perfect fit for you if you're renting out rooms, or if you're renting out the basement.
In virtually every instance of short-term rental, we have options, which are specifically tailored for your intended purpose. Those options provide all of the unique coverage that you need and will also fulfill any insurance requirement a property manager may ask for. If you want someone with expertise and a comprehensive set of options for Georgia, North Carolina, South Carolina, or Tennessee, we have all of them and know each and every company's specific appetite.
In almost every case, a homeowner's policy can't give you the coverage that you need. Because we've had many years' experience and have sought out and work with all of the carriers that focus on products for the sharing economy, we're able to provide clients with choices and unparalleled pricing and coverage in the marketplace.
If you were curious, as the story goes, Charlotte and Trent found exactly what they needed…
NO WORRIES!
Justin Sutton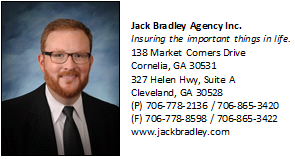 Agent
Property Management and Vacation Rental Specialist